Strona główna Polskiej Filharmonii Kameralnej Sopot
Slajdy z wiadomościami i wydarzeniami
Kalendarz wydarzeń
TICKETS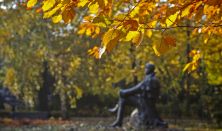 KONCERT JESIENNY
Sala Koncertowa PFK
W niedziele 16 października Polska Filharmonia Kameralna Sopot z maestro Wojciechem Rajskim zaprasza na koncert jesienny.
Podczas koncertu odbędzie się uroczystość nadania honorowego obywatelstwa miasta Sopot prof. Krzysztofowi Sperskiemu - pomysłodawcy i organizatorowi od 1974 roku Czwartkowych Wieczorów Muzycznych w Dworku Sierakowskich, członkowi i jednemu z założycieli Towarzystwa przyjaciół Sopotu.
Warning! The basket time limit is about to expire!
estimated time left:
00:00
Time limit has expired. Please, put item(s) in to basket again.
---